Automotive experts agree dirt is the number one cause of engine wear. In fact, analysis by Federal-Mogul Corporation reports that 43.4 percent of all engine bearing distress is caused by dirt.
Dirt particles are extremely abrasive. They consist of razor-like flakes of road dust and airborne grit drawn into the engine through the intake manifold. Filtration is the key to preventing costly engine repairs caused by dirt, removing contaminants by trapping and holding them outside the system of oil circulation.
An engine "breathes" air to mix with fuel for combustion - about 9,000 gallons of air for every gallon of gas. The air within one cubic mile over a typical city contains more than 400 tons of suspended dirt, and the concentration is much higher in rural areas where travel frequently is over unpaved roads.
The air filter is the first line of defense against abrasive airborne grit. It must effectively filter the dangerous particles without obstructing the vital flow of air that sustains the engine.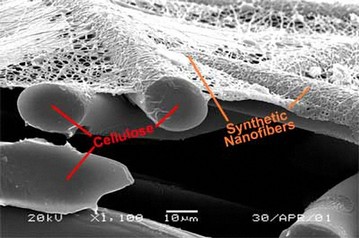 Conventional air filters quickly become obstructed with dirt, reducing vital engine air intake, leading to poor engine performance and low fuel efficiency. They require frequent replacement.