These oils are used exclusively in jet engines because of their extraordinary ability to reduce friction and wear on engine components, function dependably at severe temperature extremes and withstand rigorous and lengthy engine operation without chemical breakdown.
Recognizing that these same benefits would prove invaluable in combustion engines, Al began conducting
serious research
in 1963. By 1966 he had formulated a synthetic motor oil and put it to use in vehicles in northern Minnesota.
Throughout the late '60s, AL continued his research and development and sold commercially available synthetic oils under a variety of names.
In 1970 he incorporated his name into a commercially sold product he called AMMO'S OIL (the name actually came from a nickname he had in the air force, "Ammo").
But after a while, many started referring to the oil simply as "AM'S OIL".
In 1971, the name was changed to AM
Z
OIL and it continued to be sold commercially. The name would later be changed to today's familiar AM
S
OIL.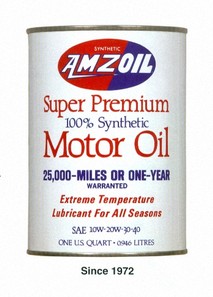 The true milestone came in 1972 when AMZOIL 10W-40 Synthetic Motor Oil, the result of years of research and inspired by aerospace technology,
became the
first synthetic motor oil in the world to meet American Petroleum Institute service requirements
for automobile engines
.
It signaled a new age in lubrication science and the birth of an entirely new industry.
The new lubricant performed like no other had before. It set all-new standards for motor oil quality and outperformed conventional petroleum motor oils on all counts.
It was clear from the start this innovative product would play a major role in redefining the performance capabilities of modern machinery and engines.
Today, virtually every other motor oil manufacturer has recognized the superiority of synthetic lubricants and has followed AMSOIL's lead with introductions of synthetic motor oils of their own.
Accept No Substitutes – AMSOIL is "The First in Synthetics®"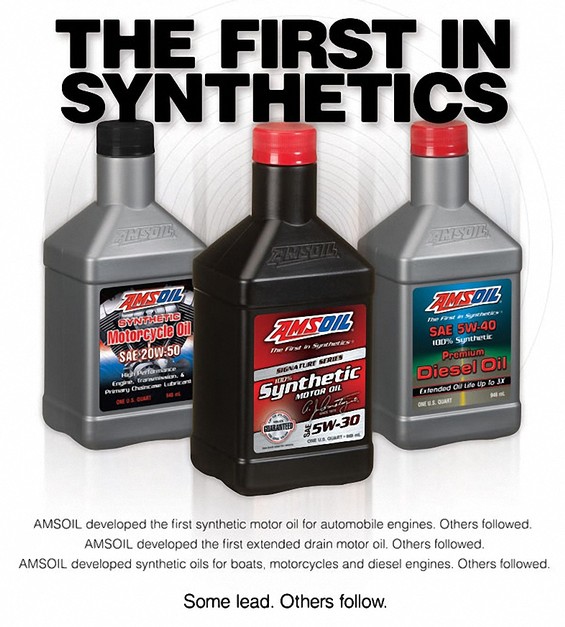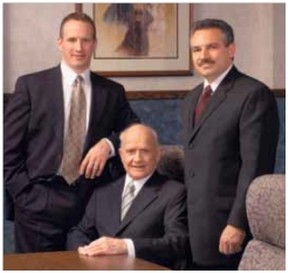 Al Amatuzio founded
AMSOIL INC.
on the same principles that defined his career as a jet fighter squadron commander – excellence, integrity and strong leadership.
The company has remained true to these ideals. Its history is a checklist of revolutionary products that have withstood the test of time.
Today, under the leadership of President Albert J. Amatuzio, along with Executive Vice President and COO Alan Amatuzio and Executive Vice President and General Manager Dean Alexander, AMSOIL remains the leader in synthetic lubrication technology.
Hall of Fame

In 1994 Al Amatuzio was honored as the pioneer of synthetic lubrication with his induction into the
Lubricants World Hall of Fame
.
Al is firmly established among the giants who have shaped this industry. His desire for technical innovation, his commitment to higher quality, and his belief that consumers respond to superior products remain the core of the AMSOIL philosophy.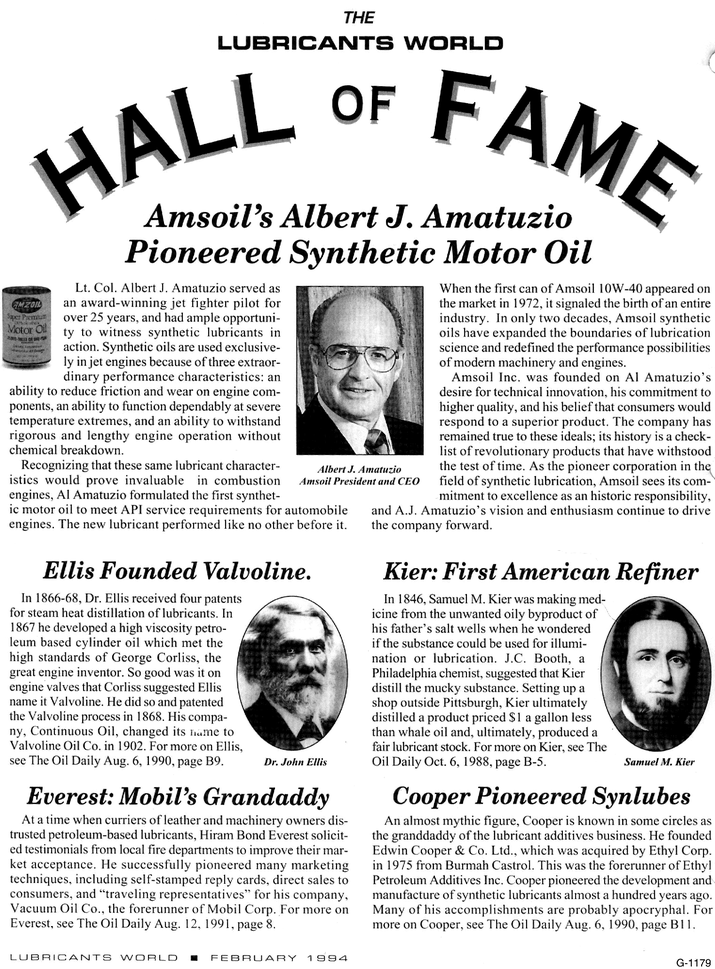 Holding ourselves to
higher quality standards
is our industry trademark. We select raw materials based on quality and performance, not price.
Each chemical is tested to ensure it meets our quality standards before it is accepted into our manufacturing facility. Our manufacturing process uses a strictly controlled computerized process to maintain top-quality finished products.
Samples of the finished product are subjected to a series of industry-standard tests prior to packaging. Every product AMSOIL manufactures is tested every time it is blended to ensure maximum quality and consistency, ensuring AMSOIL customers receive the same high performance every time they purchase AMSOIL synthetic lubricants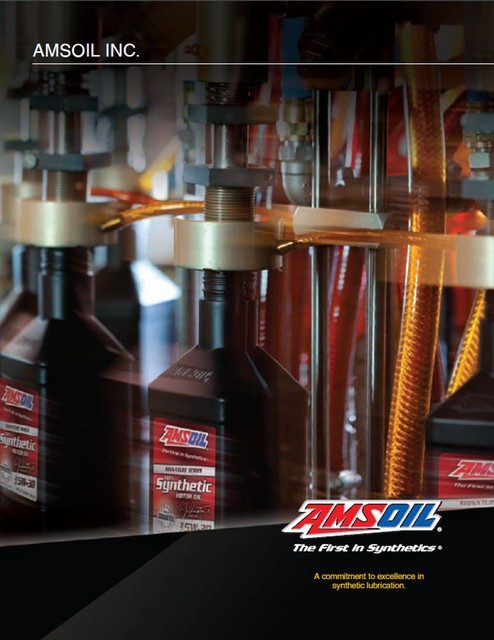 AMSOIL invests heavily in product
research and development
to ensure we remain at the industry's forefront. Research and testing are high priorities at AMSOIL.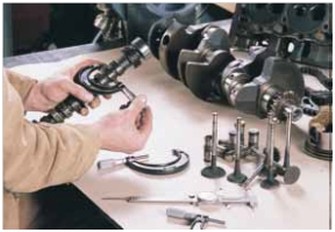 The company's research and development facilities are staffed by specialists in every facet of synthetic lubricant technology.
Our on-site chemical and mechanical test facilities contain the sophisticated analytical instruments needed to develop cutting-edge synthetic technology.
Quality assurance test procedures are rigorous and begin with analysis of every raw material that enters the plant.
Both during new product development and as a continuing control on the manufacturing process, AMSOIL lubricants are subjected to an exhaustive series of standardized industry tests, including those that measure film and shear strength, flashpoint, volatility and high- and low-temperature viscosity.
No other lubricant manufacturer in the world matches the high quality standards set by AMSOIL, and all AMSOIL synthetic lubricants exceed the industry's most stringent specifications by a wide margin.
Even the most comprehensive lab testing must be validated in the field. AMSOIL products are proven in intensive field demonstrations involving automobiles, trucks, commercial and industrial equipment in real-world service situations.
Long-range studies have involved vehicles requiring the most severe lubricant applications: taxicabs, delivery fleets, police and emergency vehicles, over-the-road trucks, wind turbines, heavy-duty construction and industrial machinery.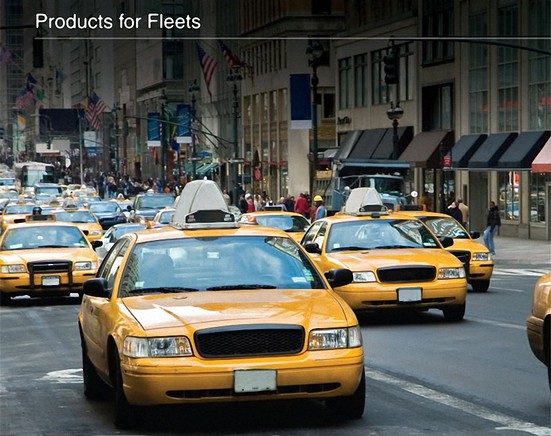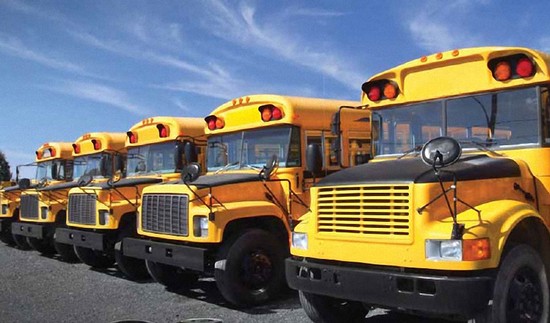 Results of tests performed under these extreme operating conditions demonstrate that AMSOIL products reduce engine wear, decrease maintenance time, maximize fuel efficiency and increase fleet cost effectiveness.
The final, conclusive proof of any lubrication product is, of course, the superior performance acknowledged by satisfied consumers and cost-conscious fleet managers.
Further testing occurs at
race tracks around the world
. AMSOIL lubricants have helped racing teams operating off-road trucks, stock cars, high-powered boats, dirt bikes and snowmobiles capture countless checkered flags and championships.
We believe that
"Racing is Research
™
"
, and we use the data our racing efforts generate to tailor AMSOIL formulations for even greater levels of performance and protection.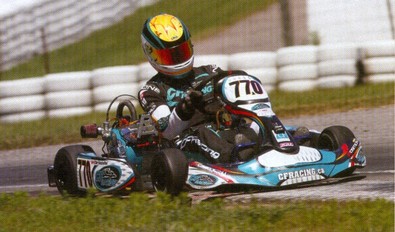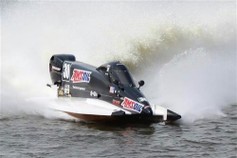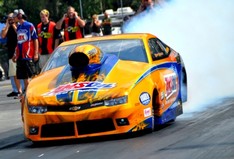 AMSOIL Lubricants are designed to help your equipment run at peak efficiency and last longer. Join the millions of proud AMSOIL users to experience the difference.
Products

AMSOIL formulates a
wide selection of synthetic lubricants
for all types of engine and gear applications, including those for specialized vehicles and severe operating conditions.
In addition, AMSOIL has developed sophisticated fuel additives, filtration systems and other companion products that supplement and extend lubricant performance. All are distributed through a worldwide network of independent Dealers.
This complete line of quality products is recognized by countless private motorists, fleet managers and industrial administrators as the best and most cost-effective choice for increasing engine performance, reducing maintenance and prolonging vehicle and equipment life.
The AMSOIL Corporate Headquarters, Manufacturing Plants, and Main Distribution Center are located in Superior, WI, with several regional warehouses strategically located throughout North America as well as overseas. These facilities cover a total of nearly 700,000 square feet.
The
AMSOIL Center
serves as the hub of the AMSOIL distribution network. All AMSOIL products are packaged and shipped from this location. It is more than 400,000 square-feet and sits on a 55.5-acre site with 38 loading docks to allow future expansion.
These centers are vital to AMSOIL's goal that its hundreds of products be available to ship to any distributor within one day. It distributes products worldwide and supplies the 13 AMSOIL Distribution Centers in North America (11 in the U.S. and 2 in Canada).
The AMSOIL Center houses AMSOIL Technical Services, the AMSOIL Laboratory, AMSOIL Production and Packaging, AMSOIL Technical Sales, the AMSOIL Central Warehouse, the Superior Distribution Center, the AMSOIL Operations Department, 86 storage tanks, four packaging lines, 38 loading docks, 3.5 miles of pipe, 90 product transfer pumps, 85 employees, and a 6 million dollar computer system to tie together its far-flung distribution network.
The AMSOIL administrative functions are centrally located and outfitted with the latest in communications and information processing equipment. The entire complex is staffed by a cooperative, knowledgeable and well-disciplined team of approximately 300 employees.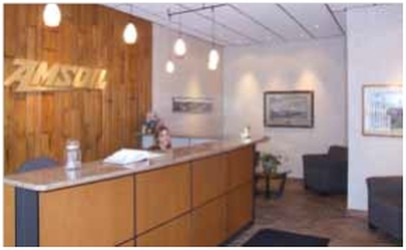 The state-of-the-art lubricant production plant features a drive-through bulk chemical delivery bay that allows up to six railcars and four tanker trucks to be loaded or unloaded simultaneously.
It contains materials blending and bulk storage facilities, as well as high-speed bottling lines and packaging equipment. Capacity is geared to meet projected market demands decades away.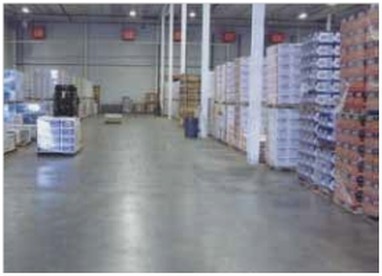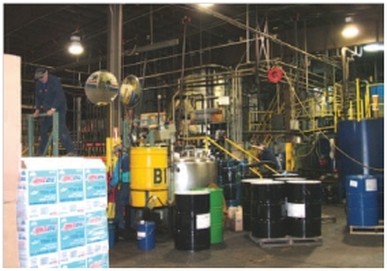 "We purchased the AMSOIL Center in the fall of 2004 in order to expand our production and warehousing capabilities.
We installed the industry's most advanced packaging lines, increasing production capabilities by 250 percent.
We installed the industry's most advanced blending equipment, increasing efficiency and maintaining the high level of quality demanded of AMSOIL lubricants.
We constructed a new laboratory, ensuring only the most high-quality formulations emerge. The world's best raw materials are delivered here, and the world's best lubricants are housed here.
Achieving a high level of success is not easy. It takes hard work, dedication, persistence and a little help. This is true for any type of business. I worked very hard to develop AMSOIL synthetic motor oil throughout the 1960s. I worked even harder to get it API-certified in 1972, but it took a little help from the AMSOIL Dealer network to make AMSOIL the success it is today.
The AMSOIL Center is the result of the hard work and dedication of many. I started producing AMSOIL synthetic motor oils out of a tiny garage here in Superior, Wis. Now, the AMSOIL Center is more than nine acres under one roof. I used to blend and package AMSOIL motor oils myself. Now, the AMSOIL Center boasts the finest state of- the-art, automated packaging equipment in the industry."
"We are the comparison company. We compare our products against the majors in half a dozen ASTM tests and publish the results, naming each company and displaying the results in easy-to-understand charts. Our products always demonstrate better performance than all the companies we compare ourselves with."
"We've invested in a new bottling line, blending and tank storage and distribution facilities over the past few years, and we have a core of very good people," summed up Al Amatuzio. "We're going to continue to do what we have been doing, playing fair with consumers and the environment. That includes continuing to use the best synthetic base oils and the highest quality additive packages."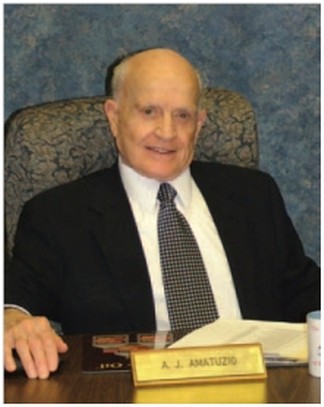 A.J. "Al" Amatuzio – President and CEO