Products > AMSOIL Products > Shop by Category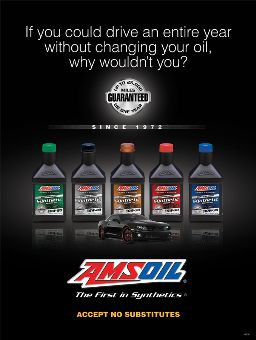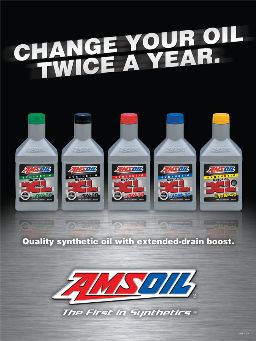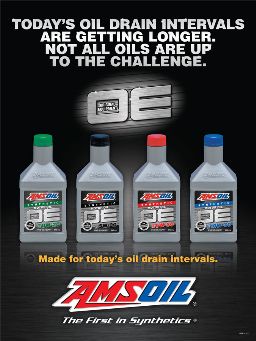 25,000 miles (40,000 km) Drain Interval
Signature Series
Synthetic Motor Oil
is our
top-tier
AMSOIL advanced synthetic oil. It is designed for motorists who want the convenience of a once-a-year oil change combined with maximum engine protection, extreme-temperature performance and fuel efficiency.
AMSOIL
Signature Series
Oils are formulated to exceed the higher performance requirements of modern engines in everything from family sedans to high-powered sports cars, providing peace of mind that your engine is well-protected, even in severe driving conditions. Its
guaranteed 40,000 km (25,000-mile/12-month) drain interval
(under normal service) saves you time and money, and reduces waste oil.
AMSOIL
Signature Series
offers exceptional protection against harmful deposits, viscosity increase and wear in the toughest conditions, helping you maximize the performance and longevity of your vehicle. Its ability to keep components clean despite increased stress helps sophisticated engine systems operate smoothly and demonstrate long life.
Signature Series' outstanding performance combined with its extended-drain capabilities offer a unique combination of quality and value not offered by other motor oils. Plus their
extended-drain capabilities
help protect the environment.
For 2015, AMSOIL has expanded
our top-tier
Signature Series
line by adding two new viscosity grades,
SAE 5W-50
and
SAE 0W-40
.
Signature Series is now available in 7 different multigrades (SAE 0W-20, 0W-30, 0W40, 5W-20, 5W-30, 5W-50, and 10W-30).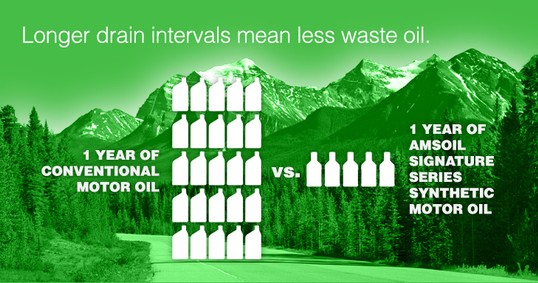 Premium Protection
Synthetic Motor Oil
is ideal for
high-mileage vehicles
and
high-stress vehicles
subject to hot temperatures, heavy hauling, trailer pulling or off-road use. It can be used in both gasoline
and
diesel engines.
It provides the extra anti-wear protection required by older engines with
flat-tappet cams
and
high-tension valve springs
.
The higher viscosity may help reduce motor oil consumption in equipment experiencing higher than normal oil usage rates.

Premium Protection
Motor Oil
is
guaranteed for up to 40,000 km (25,000-mile/12-month) drain intervals
(under normal service) in
diesel
engines or
24,000 km (15,000-mile/12-month) drain intervals
in
gasoline
engines.
It is ideal for applications where the extra protection of a higher-viscosity oil is desired and is excellent for
motor homes
and
older vehicles
. It also
contains no
friction modifiers
, making it ideal for motorcycles, maintenance equipment and other wet-clutch transmission applications.
10,000 miles (16,000 km) Drain Interval
XL Series
Synthetic Motor Oil
offers the convenience of a twice-a-year oil change program combined with the peace of mind of outstanding engine protection and performance.
Its extended-drain boost technology delivers
guaranteed oil change intervals of 16,000 km (10,000 miles/6 months)
,
under normal service,
or longer
when recommended in owner's manuals or indicated by oil life monitoring systems.

XL Series
Oils
not only save you time and money, they reduce waste oil due to fewer oil changes performed each year and maximize fuel economy, so you can help the environment and save on gas.
3,000+ miles (5,000+ km) Drain Interval
It's also great for those not yet ready to extend their oil change intervals.

OE Series
Oils
are
specifically formulated for vehicle manufacturer-recommended oil change intervals
, giving you confidence that your engine is protected even if your owner's manual recommends oil changes well beyond the traditional 5,000 km (3,000 miles).